What is Bitcoin?
Bitcoin is the cryptocurrency that started it all. Launched in 2008, Bitcoin still has the largest market cap of all cryptos. So it's well worth spending a moment getting to know what it is, and how it works.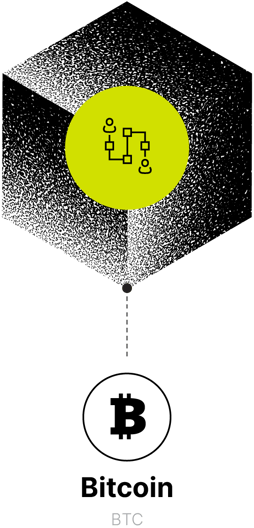 Bitcoin is digital money
It uses peer-to-peer technology and runs on a shared public ledger called a 'blockchain'. No single group or individual can control the blockchain, or make any changes to it. This means you can trust it to be an open and honest record of all transactions. Because everything is managed securely on the blockchain, Bitcoin bypasses the need for banks and central authorities. In other words, it's 'decentralised'. This decentralised, peer-to-peer, trustless system was first invented just for Bitcoin. But these days, it's common to all public blockchains.
Bitcoin is a scarce asset
There can only ever be 21,000,000 Bitcoin in circulation. In November 2022 there were just over 19 million in existence, and a new one is currently minted every 1.6 minutes. To put this scarcity into perspective, there's not enough Bitcoin for every millionaire in the USA to own just one.
Why should you buy Bitcoin?
Increased liquidity
Bitcoin's massive popularity among investors gives it a high degree of liquidity. There are always plenty of willing buyers and sellers in the market.
High value
Bitcoin's popularity and liquidity is also reflected in its price, which is well above the value of the next tier of major coins.
Decentralised currency
One great reason to purchase Bitcoin is to use it for its intended purpose; to buy things over the internet, free from the influence of governments and banks.
Diverse portfolio
The truly diverse portfolio of today would be incomplete without alternative assets. And with high potential for hyper-growth, Bitcoin is a strong diversification option.
Long-term gains
Bitcoin has produced exceptional gains in the past, and it may well do so again.. This is why Wealth99 offers Bitcoin; as a long-term asset, and the cornerstone of a well balanced cryptocurrency portfolio.
Is Bitcoin a smart investment?
Alternative assets, like Bitcoin, are all about diversification. Spreading your risk across a portfolio of different assets is the smart 'get wealthy slowly' strategy. But there are no guarantees that any investment will increase in value. So it's always a good idea to get independent advice from a financial professional before choosing to invest.
Safety and security with Wealth99
Cold storage
98% of assets on Wealth99 are kept offline in 'cold storage' – safe from hackers and cyber-security threats.
Insurance
Our assets are insured with Bitgo, one of the world's largest institutional custody providers.
2FA
Your account is kept secure with compulsory Two-Factor Authentication (2FA) plus email notifications whenever your account is logged into.
Extra measures
We also hash all passwords, use AES-256 encryption for wallets, secure all private keys with Bitgo, and help prevent CSRF attacks by using SQL injections to verify requests.
Authentication
Each transaction goes through a carefully scrutinised authentication process, which takes 24 to 48 hours to complete.
Verification
Wealth99 also complies with all relevant Know Your Customer (KYC) and Anti-Money Laundering (AML) requirements.
Why choose Wealth99?
Whether you're an investment expert or a total newbie – with Wealth99, your New Wealth journey will be simple, safe, and secure.
Quick sign up
Get started in just a few minutes from your phone or laptop.
Low minimum investment
You can start your New Wealth journey with as little as $/£500.
User-friendly
Buying and selling is simple on our easy-to-use platform.
World-class security
Our multiple best-practice security protocols keep your assets safe.