What is Bitcoin Cash?
Bitcoin Cash is a spin-off of Bitcoin. As a payment currency, it's stayed true to Bitcoin's original spirit. But because it has a larger block size than Bitcoin, it has a much higher network speed – and costs significantly less to use.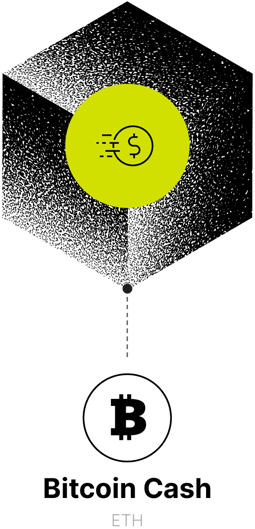 The creation of Bitcoin Cash
In 2017, members of the Bitcoin community feared that proposed changes to the crypto's blockchain would turn Bitcoin into an investment currency, rather than a transactional digital currency. This split in the Bitcoin community led to the creation of Bitcoin Cash.
The relationship between the two
Here's a handy way to think of the technical relationship between Bitcoin and Bitcoin Cash. Imagine a new version of Microsoft Word (Bitcoin Cash), that can't open files created by the previous version (Bitcoin).
Why should you buy Bitcoin Cash?
Demand for Bitcoin Cash is driven by two things.
Effective payment currency
High-speed and low-cost, Bitcoin Cash is an excellent way to pay for things over digital networks. It's possible to imagine paying for a coffee with BCH, and saving on the usual bank fees that come with electronic transactions.
Leading crypto
BCH is a leading cryptocurrency with a clear use case, an active developer community, and a Top 40 market cap. And the cryptomarket's history shows that the biggest and most active coins tend to deliver the best increase in long-term value.
Is Bitcoin Cash a smart investment?
Alternative assets, like Bitcoin Cash, are all about diversification. Spreading your risk across a portfolio of different asset is the smart 'get wealthy slowly' strategy. But there are no guarantees that any investment will increase in value. So it's always a good idea to get independent advice from a financial professional before choosing to invest.
Safety and security with Wealth99
98% of assets on Wealth99 are kept offline in 'cold storage' – safe from hackers and cyber-security threats.
Our assets are insured with Bitgo, one of the world's largest institutional custody providers.
Your account is kept secure with compulsory Two-Factor Authentication (2FA) plus email notifications whenever your account is logged into.
We also hash all passwords, use AES-256 encryption for wallets, secure all private keys with Bitgo, and help prevent CSRF attacks by using SQL injections to verify requests.
Each transaction goes through a carefully scrutinised authentication process, which takes 24 to 48 hours to complete.
Wealth99 also complies with all relevant Know Your Customer (KYC) and Anti-Money Laundering (AML) requirements.
Why choose Wealth99?
Whether you're an investment expert or a total newbie – with Wealth99, your New Wealth journey will be simple, safe, and secure.
Quick sign up
Get started in just a few minutes from your phone or laptop.
Low minimum investment
You can start your New Wealth journey with as little as $/£500.
User-friendly
Buying and selling is simple on our easy-to-use platform.
World-class security
Our multiple best-practice security protocols keep your assets safe.