What is Chainlink?
Chainlink is the industry-leading blockchain oracle network. Launched in 2017, it a radically expands the capabilities of Smart Contracts by connecting them to real-world data. In other words, Chainlink works like a bridge between data in the real world and the digital world.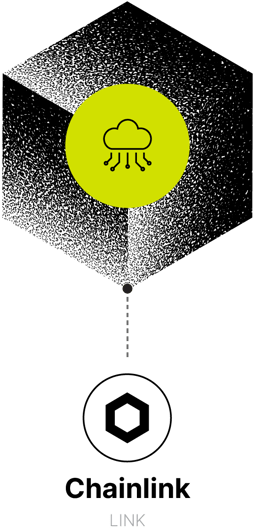 Flexible framework
Chainlink is built on a flexible framework that can retrieve data from any API, connect with existing systems, and integrate with any current or future blockchain.
Endless possibilities
Because the data gathered by Chainlink oracles is tamper proof – and is recorded, secured and validated by a blockchain – the possibilities for its use are virtually endless.
Growing ecosystem
The open-source Chainlink ecosystem is rapidly growing, collectively built by a visionary global community of developers, researchers, and users.
Accelerating innovation
Chainlink Labs is driving smart contract innovation and adoption – empowering developers to build feature-rich decentralised apps, and provide global enterprises with a universal gateway to all blockchains.
Fairness and transparency
The Chainlink community believes a cryptographically enforced system of contracts will help create a new age of economic fairness, transparency, and efficiency.
Why should you buy Chainlink?
Growing value
Chainlink's services will become increasingly valuable, as blockchain technology and Smart Contracts continue to grow ever more closely integrated with the Internet of Things and the global economy.
Limitless applications
Chainlink isa platform with almost limitless real-world applications – meaning its use could spread across industries, categories, and markets, all over the world.
A real-world example
Say a refrigerated shipment is on its way from India to Europe. A temperature sensor connected to a Chainlink oracle monitors the temperature. A Smart Contract with an insurance company is set to execute a claim automatically if the temperature exceeds a certain value. This is the remarkable level of control, reliability, and automation that could be made possible with Chainlink.
Is Chainlink a smart investment?
Alternative assets, like Chainlink, are all about diversification. Spreading your risk across a portfolio of different asset is the smart 'get wealthy slowly' strategy. But there are no guarantees that any investment will increase in value. So it's always a good idea to get independent advice from a financial professional before choosing to invest.
Safety and security with Wealth99
98% of assets on Wealth99 are kept offline in 'cold storage' – safe from hackers and cyber-security threats.
Our assets are insured with Bitgo, one of the world's largest institutional custody providers.
Your account is kept secure with compulsory Two-Factor Authentication (2FA) plus email notifications whenever your account is logged into.
We also hash all passwords, use AES-256 encryption for wallets, secure all private keys with Bitgo, and help prevent CSRF attacks by using SQL injections to verify requests.
Each transaction goes through a carefully scrutinised authentication process, which takes 24 to 48 hours to complete.
Wealth99 also complies with all relevant Know Your Customer (KYC) and Anti-Money Laundering (AML) requirements.
Why choose Wealth99?
Whether you're an investment expert or a total newbie – with Wealth99, your New Wealth journey will be simple, safe, and secure.
Quick sign up
Get started in just a few minutes from your phone or laptop.
Low minimum investment
You can start your New Wealth journey with as little as $/£500.
User-friendly
Buying and selling is simple on our easy-to-use platform.
World-class security
Our multiple best-practice security protocols keep your assets safe.