What is Dacxi Coin?
Dacxi Coin is the native cryptocurrency of the Dacxi Chain; the world's first global tokenized crowdfunding network. It's an ERC-20 utility token, and its total coin supply is 10,000,000,000. The circulating supply is 9,000,000,000. See the Dacxi Chain website for more details.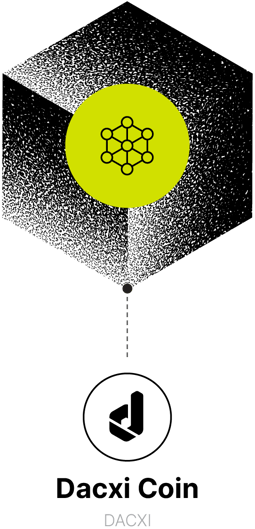 What is the Dacxi Chain?
The Dacxi Chain is a global crowdfunding ecosystem. Using tokenization to create digital versions of company shares, the Dacxi Chain makes investing in innovative start-ups easier than ever. Closing the gap between entrepreneurs and investors, and unleashing the world's innovation potential. This significant blockchain project has been in development since 2017, and aims to launch in 2023.
What is Dacxi Coin's role on the Dacxi Chain?
Facilitating potentially millions of international investment transfers each year
Payment of Dacxi Chain network fees
Node staking (using the energy efficient 'Proof of Stake' protocol)
The currency of Dacxi Chain's global exchanges
Payment of global eCommerce transactions
Why should you buy Dacxi Coin?
Solving a real-world problem
Dacxi Coin and the Dacxi Chain are part of a new wave of blockchain projects, which use this revolutionary technology to solve previously unsolvable real-world problems.
Strong use case
By using blockchain technology and tokenization to seamlessly connect entrepreneurs and investors, the Dacxi Chain will change the crowdfunding industry for good. And as the engine that powers it all, Dacxi Coin's potential is as limitless as the world's imagination.
Potential demand
Once the Dacxi Chain is fully operational, the number of Dacxi Coin required to power it could reach the billions. This means demand for the coin could reach similar heights.
Is Dacxi Coin a smart investment?
Alternative assets, like Dacxi Coin, are all about diversification. Spreading your risk across a portfolio of different assets is the smart 'get wealthy slowly' strategy. But there are no guarantees that any investment will increase in value. So it's always a good idea to get independent advice from a financial professional before choosing to invest.
Safety and security with Wealth99
Cold storage
98% of assets on Wealth99 are kept offline in 'cold storage' – safe from hackers and cyber-security threats.
Insurance
Our assets are insured with Bitgo, one of the world's largest institutional custody providers.
2FA
Your account is kept secure with compulsory Two-Factor Authentication (2FA) plus email notifications whenever your account is logged into.
Extra measures
We also hash all passwords, use AES-256 encryption for wallets, secure all private keys with Bitgo, and help prevent CSRF attacks by using SQL injections to verify requests.
Authentication
Each transaction goes through a carefully scrutinised authentication process, which takes 24 to 48 hours to complete.
Verification
Wealth99 also complies with all relevant Know Your Customer (KYC) and Anti-Money Laundering (AML) requirements.
Why choose Wealth99?
Whether you're an investment expert or a total newbie – with Wealth99, your New Wealth journey will be simple, safe, and secure.
Quick sign up
Get started in just a few minutes from your phone or laptop.
Low minimum investment
You can start your New Wealth journey with as little as $/£500.
User-friendly
Buying and selling is simple on our easy-to-use platform.
World-class security
Our multiple best-practice security protocols keep your assets safe.