Launched in 2015, Ethereum (ETH) is the world's second-highest market cap cryptocurrency – second only to Bitcoin. There are currently about 120 million ETH in circulation. And unlike Bitcoin, the supply of Ethereum is uncapped – so this number is increasing all the time.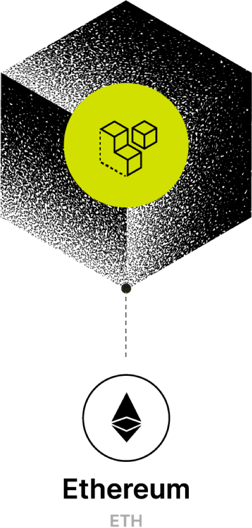 Ethereum is programmable
Where Bitcoin is purely for payments, Ethereum is more like a marketplace of financial services, games, social networks, and decentralised apps (Dapps). There's no limit to the number of Dapps that can be built and deployed on the Ethereum network, and thousands of developers are building more every day.
Ethereum created Smart Contracts
Smart Contracts are the innovation that made Ethereum famous. Smart Contracts are flexible preprogrammed contracts that run on the Ethereum blockchain. They automatically execute when a defined set of conditions have been met. Smart Contracts can be used for anything from insurance claims to property transactions – all without any middleman involved. For that reason many people believe that Smart Contracts are the future of financial transactions, and the Ethereum network is where it will happen.
Ethereum is future-proofed and sustainable
Ethereum recently switched its blockchain validation protocol from the energy-intensive Proof Of Work to the energy-saving Proof Of Stake. This switch resulted in an energy saving of 99.95% – eliminating concerns over the crypto's sustainability.
Why should you buy Ethereum?
Pioneers of the token economy
Thanks to its Smart Contracts, Ethereum has opened up the immense potential of tokenization. Tokenization is already unleashing innovations like shared ownership of major assets, the creation of NFTs, sustainable energy sharing, securing intellectual property, and more.
Leaders in blockchain technology
The World Economic Forum predicts that up to 10% of the global Gross Domestic Product will be facilitated by blockchain technology by 2025, and Ethereum is absolutely intrinsic to that growth.
As the world begins to understand the immense benefits of Smart Contracts, demand for Ethereum's native cryptocurrency is expected to grow. This makes it a valuable long-term addition to a well-diversified portfolio.
Is Ethereum a smart investment?
Alternative assets, like Ethereum, are all about diversification. Spreading your risk across a portfolio of different assets is the smart 'get wealthy slowly' strategy. But there are no guarantees that any investment will increase in value. So it's always a good idea to get independent advice from a financial professional before choosing to invest.
Safety and security with Wealth99
98% of assets on Wealth99 are kept offline in 'cold storage' – safe from hackers and cyber-security threats.
Our assets are insured with Bitgo, one of the world's largest institutional custody providers.
Your account is kept secure with compulsory Two-Factor Authentication (2FA) plus email notifications whenever your account is logged into.
We also hash all passwords, use AES-256 encryption for wallets, secure all private keys with Bitgo, and help prevent CSRF attacks by using SQL injections to verify requests.
Each transaction goes through a carefully scrutinised authentication process, which takes 24 to 48 hours to complete.
Wealth99 also complies with all relevant Know Your Customer (KYC) and Anti-Money Laundering (AML) requirements.
Why choose Wealth99?
Whether you're an investment expert or a total newbie – with Wealth99, your New Wealth journey will be simple, safe, and secure.
Quick sign up
Get started in just a few minutes from your phone or laptop.
Low minimum investment
You can start your New Wealth journey with as little as $/£500.
User-friendly
Buying and selling is simple on our easy-to-use platform.
World-class security
Our multiple best-practice security protocols keep your assets safe.