What is Litecoin?
Litecoin was released as an open-source project in 2011 by Charlie Lee, a former Google engineer. Inspired byBitcoin's original source code, its technology shares a lot of similarities to Bitcoin. In fact it's often referred to as 'digital silver' compared to Bitcoin's 'digital gold'.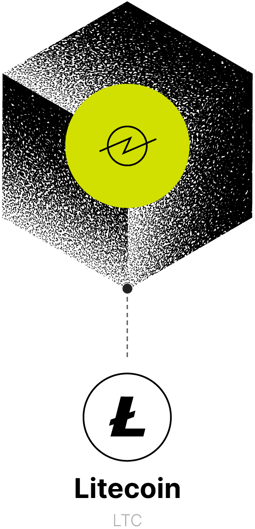 A faster, cheaper Bitcoin.
The big idea behind Litecoin was to be a faster and cheaper version of Bitcoin. Speed and expense isn't the only difference between the two. Where Bitcoin has a limited supply of 21 million coins, Litecoin's coin cap is 84 million. This means it's four times less scarce than Bitcoin.
An active community
Litecoin has a very active developer community, who have pioneered some of the most important blockchain payment technologies. Technologies like The Lightning Network, which facilitates instant global settlement of funds, and Atomic Swaps which handles cross-blockchain trustless trading.
A global scrypt-based network
The Litecoin blockchain is the world's largest global scrypt-based network. It has proven to be extremely reliable – operating with 100% uptime since 2011. Over the years, it has secured and transacted billions of dollars of value.
Why should you buy Litecoin?
High liquidity
Litecoin is a highly liquid cryptocurrency, making it ideal for traders. Its high speed and low cost make it a popular form of payment. The Litecoin network consistently processes over 100,000 transactions per day.This liquidity and demand are key indicators of future value.
Growing ecosystem
The Litecoin ecosystem continues to grow. Its developer community is actively building and releasing new and innovative applications built on its blockchain. Like the recent launch of 'OmniLite,' a decentralized token creation platform that benefits from Litecoin's security, fast processing speeds, and low fees.
Is Litecoin a smart investment?
Alternative assets, like Litecoin, are all about diversification. Spreading your risk across a portfolio of different asset is the smart 'get wealthy slowly' strategy. But there are no guarantees that any investment will increase in value. So it's always a good idea to get independent advice from a financial professional before choosing to invest.
Safety and security with Wealth99
98% of assets on Wealth99 are kept offline in 'cold storage' – safe from hackers and cyber-security threats.
Our assets are insured with Bitgo, one of the world's largest institutional custody providers.
Your account is kept secure with compulsory Two-Factor Authentication (2FA) plus email notifications whenever your account is logged into.
We also hash all passwords, use AES-256 encryption for wallets, secure all private keys with Bitgo, and help prevent CSRF attacks by using SQL injections to verify requests.
Each transaction goes through a carefully scrutinised authentication process, which takes 24 to 48 hours to complete.
Wealth99 also complies with all relevant Know Your Customer (KYC) and Anti-Money Laundering (AML) requirements.
Why choose Wealth99?
Whether you're an investment expert or a total newbie – with Wealth99, your New Wealth journey will be simple, safe, and secure.
Quick sign up
Get started in just a few minutes from your phone or laptop.
Low minimum investment
You can start your New Wealth journey with as little as $/£500.
User-friendly
Buying and selling is simple on our easy-to-use platform.
World-class security
Our multiple best-practice security protocols keep your assets safe.