What is Maker?
MakerDAO, symbolized as MKR, stands as the backbone of a revolutionary decentralized finance system. Founded in 2015, Maker's dual-token mechanism includes both MKR and DAI, the latter being a stablecoin pegged to the US Dollar. MKR, on the other hand, is used for governance in the Maker ecosystem and plays a crucial role in maintaining the stability of DAI.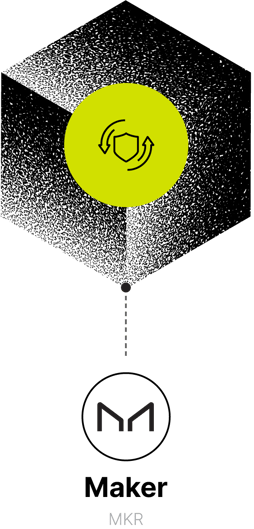 Governance and stability
MKR token holders are the decision-makers of the MakerDAO system. They participate in key protocol decisions, ensuring that DAI remains stable and that the entire system operates efficiently.
Collateralized debt positions (CDPs)
MKR also enables the creation of CDPs, which allows users to generate DAI against the collateral they provide, making the ecosystem both flexible and secure.
Why should you buy Maker?
Central to DeFi
MakerDAO is a foundational pillar in the DeFi landscape, making MKR an essential asset for those interested in the future of decentralized finance.
A dual-token system
The symbiotic relationship between MKR and DAI ensures that the ecosystem remains balanced, offering both stability and governance.
Is Maker a smart investment?
Given Maker's fundamental role in the DeFi ecosystem and its innovative approach to maintaining currency stability, it presents an intriguing investment opportunity. However, as with all investments, there are inherent risks. It's crucial to keep updated with market trends and possibly consult a financial professional before making an investment decision.
Safety and security with Wealth99
98% of assets on Wealth99 are kept offline in 'cold storage' – safe from hackers and cyber-security threats.
Our assets are insured with Bitgo, one of the world's largest institutional custody providers.
Your account is kept secure with compulsory Two-Factor Authentication (2FA) plus email notifications whenever your account is logged into.
We also hash all passwords, use AES-256 encryption for wallets, secure all private keys with Bitgo, and help prevent CSRF attacks by using SQL injections to verify requests.
Each transaction goes through a carefully scrutinised authentication process, which takes 24 to 48 hours to complete.
Wealth99 also complies with all relevant Know Your Customer (KYC) and Anti-Money Laundering (AML) requirements.
Why choose Wealth99?
Whether you're an investment expert or a total newbie – with Wealth99, your New Wealth journey will be simple, safe, and secure.
Quick sign up
Get started in just a few minutes from your phone or laptop.
Low minimum investment
You can start your New Wealth journey with as little as AUD $100.
User-friendly
Buying and selling is simple on our easy-to-use platform.
World-class security
Our multiple best-practice security protocols keep your assets safe.