What is Polygon?
Polygon was created as a framework for building and connecting Ethereum-compatible blockchain networks. In doing so, it aimed to create an internet of blockchains, where everything talks to each other. Today, it's doing exactly that. Its decentralised Ethereum-based platform lets developers build fast, scalable, user-friendly Web3 dApps. All with low transaction fees and high security.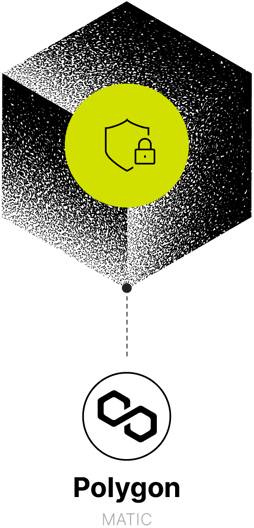 Simple and elegant
Polygon's solution is elegantly simple. It collects batches of transactions, processes them, and then submits the data to the Ethereum blockchain as a single transaction.
Developer-centric
Building dApps on Polygon is very similar to building on Ethereum. This makes the platform easily accessible to the biggest blockchain development community in the world. It also gives developers using Polygon all the benefits of Ethereum's network.
Powered by MATIC
The Polygon network is powered by its cryptocurrency, known as MATIC. MATIC is a Top 15 cryptocurrency by market capitalisation.
Why should you buy Polygon?
Major popularity
Polygon is massively popular with the blockchain developer community.Over 37,000 dApps already use Polygon to scale their performance, and more are joining them every day.
Business backing
Some of the world's biggest businesses are also taking notice of Polygon. Stripe's global crypto payment solution is built on Polygon. The Adidas Originals and Prada NFT collections – and Instagram's Digital Collectibles Showcase – all also rely on the platform.
Market value
Compared to Ethereum, Polygon offers a much cheaper scaling solution. This – combined with its popularity, business backing, developer-friendly nature, and more – makes it much-valued by the market.
Is Polygon a smart investment?
Alternative assets, like Polygon, are all about diversification. Spreading your risk across a portfolio of different assets is the smart 'get wealthy slowly' strategy. But there are no guarantees that any investment will increase in value. So it's always a good idea to get independent advice from a financial professional before choosing to invest.
Safety and security with Wealth99
98% of assets on Wealth99 are kept offline in 'cold storage' – safe from hackers and cyber-security threats.
Our assets are insured with Bitgo, one of the world's largest institutional custody providers.
Your account is kept secure with compulsory Two-Factor Authentication (2FA) plus email notifications whenever your account is logged into.
We also hash all passwords, use AES-256 encryption for wallets, secure all private keys with Bitgo, and help prevent CSRF attacks by using SQL injections to verify requests.
Each transaction goes through a carefully scrutinised authentication process, which takes 24 to 48 hours to complete.
Wealth99 also complies with all relevant Know Your Customer (KYC) and Anti-Money Laundering (AML) requirements.
Why choose Wealth99?
Whether you're an investment expert or a total newbie – with Wealth99, your New Wealth journey will be simple, safe, and secure.
Quick sign up
Get started in just a few minutes from your phone or laptop.
Low minimum investment
You can start your New Wealth journey with as little as $/£500.
User-friendly
Buying and selling is simple on our easy-to-use platform.
World-class security
Our multiple best-practice security protocols keep your assets safe.