What is Ripple?
Ripple's XRP is a digital asset and cryptocurrency that was first released in 2012. Designed for speed and scalability, XRP is used within Ripple's payment ecosystem to enable quick, low-cost international transactions.
XRP operates on the XRP Ledger, a decentralized blockchain that settles transactions more quickly than leading cryptocurrencies.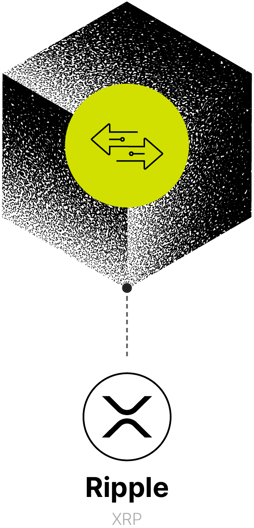 XRP is a bridge currency
It is used in Ripple's payment ecosystem to facilitate the transfer of money between different fiat currencies.
Why should you buy Ripple's XRP?

Fast transaction speed
XRP consistently handles 1,500 transactions per second, 24x7, and can scale to handle the same throughput as Visa.

Low transaction cost
XRP's negligible energy consumption and low transaction costs make it an attractive asset for real-world use.

Utility within the Ripple ecosystem
XRP is an integral part of Ripple's global payments ecosystem, RippleNet.
Is Ripple's XRP a smart investment?
XRP could offer strong potential returns for those willing to take on the risk. However, it's always wise to seek advice from a financial professional before investing.
Safety and security with Wealth99
98% of assets on Wealth99 are kept offline in 'cold storage' – safe from hackers and cyber-security threats.
Our assets are insured with Bitgo, one of the world's largest institutional custody providers.
Your account is kept secure with compulsory Two-Factor Authentication (2FA) plus email notifications whenever your account is logged into.
We also hash all passwords, use AES-256 encryption for wallets, secure all private keys with Bitgo, and help prevent CSRF attacks by using SQL injections to verify requests.
Each transaction goes through a carefully scrutinised authentication process, which takes 24 to 48 hours to complete.
Wealth99 also complies with all relevant Know Your Customer (KYC) and Anti-Money Laundering (AML) requirements.
Why choose Wealth99?
Whether you're an investment expert or a total newbie – with Wealth99, your New Wealth journey will be simple, safe, and secure.
Quick sign up
Get started in just a few minutes from your phone or laptop.
Low minimum investment
You can start your New Wealth journey with as little as $/£500.
User-friendly
Buying and selling is simple on our easy-to-use platform.
World-class security
Our multiple best-practice security protocols keep your assets safe.