What is Tether?
Launched in 2014, Tether was the world's first cryptographic 'stablecoin.' It's still the most widely used stablecoin today, and is the third-biggest crypto (after Bitcoin and Ethereum).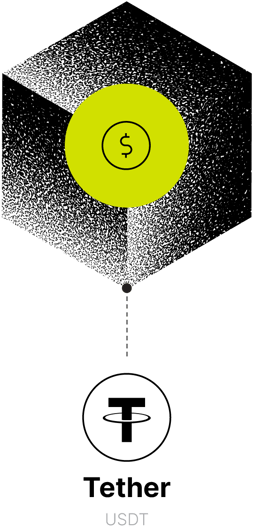 What is a 'stablecoin'?
A 'stablecoin' is a crypto whose value is tied to another asset. For example, Tether's value is pegged in a 1 to 1 ratio to the US Dollar, and is 100% backed by Tether's reserves. The actual value of a Tether token, on a daily basis, can be a little above or below one USD.
What is Tether used for?
Tether tokens let businesses – including exchanges, wallets, payment processors, financial services and ATMs – easily use fiat currencies on blockchains. That makes Tether ideal for making on-blockchain purchases, daily transactions, and swaps between cryptocurrencies.
Why should you buy Tether?
Avoid volatility
Because it's pegged to the USD, Tether avoids the volatility of other cryptocurrencies, while still maintaining value and liquidity in the crypto market.
Less conversion hassle
Tether gives you the ability to transact with traditional currencies across a blockchain, without having to convert back and forth between cash and a crypto like Bitcoin.
Is Tether a smart investment?
Alternative assets, like Tether, are all about diversification. Spreading your risk across a portfolio of different asset is the smart 'get wealthy slowly' strategy. But there are no guarantees that any investment will increase in value. So it's always a good idea to get independent advice from a financial professional before choosing to invest.
Safety and security with Wealth99
98% of assets on Wealth99 are kept offline in 'cold storage' – safe from hackers and cyber-security threats.
Our assets are insured with Bitgo, one of the world's largest institutional custody providers.
Your account is kept secure with compulsory Two-Factor Authentication (2FA) plus email notifications whenever your account is logged into.
We also hash all passwords, use AES-256 encryption for wallets, secure all private keys with Bitgo, and help prevent CSRF attacks by using SQL injections to verify requests.
Each transaction goes through a carefully scrutinised authentication process, which takes 24 to 48 hours to complete.
Wealth99 also complies with all relevant Know Your Customer (KYC) and Anti-Money Laundering (AML) requirements.
Why choose Wealth99?
Whether you're an investment expert or a total newbie – with Wealth99, your New Wealth journey will be simple, safe, and secure.
Quick sign up
Get started in just a few minutes from your phone or laptop.
Low minimum investment
You can start your New Wealth journey with as little as $/£500.
User-friendly
Buying and selling is simple on our easy-to-use platform.
World-class security
Our multiple best-practice security protocols keep your assets safe.