What is Uniswap?
Uniswap, an Ethereum-based decentralized exchange, facilitates effortless cryptocurrency trading globally. Representing one of the pioneering innovations in decentralized finance (DeFi), UNI, its governance token, allows users to partake in key protocol decisions. Since its inception in November 2018, Uniswap's popularity has soared, outshining competitors like Curve, SushiSwap, and Balancer.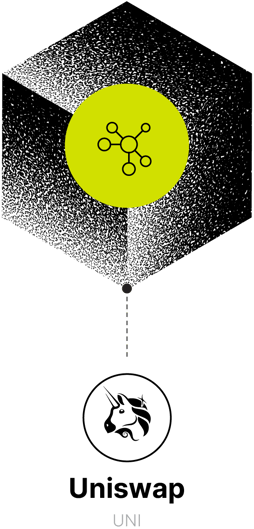 How Uniswap transforms trading
Eliminating the need for order books or intermediaries, Uniswap uses smart contracts to define liquidity pools, facilitating direct token exchanges. This Automated Market Maker model empowers users to add tokens to "liquidity pools", letting algorithms determine prices through supply-demand dynamics.
Why Invest in Uniswap?
Uniswap's unique position in the DeFi landscape makes it a compelling option for investors. As a pioneer in the space, it's reshaped how we think about decentralized trading, and its UNI token lets holders actively shape its future.
Redefining Token Distribution
In 2020, Uniswap executed a unique token distribution, airdropping 400 UNI tokens to every Ethereum address that interacted with the protocol. This gesture, valued at nearly $1,400 per address at the time, signified a shift in rewarding community members and set a precedent for other DeFi platforms.
Is Uniswap Coin a smart investment?
Decentralized exchanges like Uniswap offer distinct benefits. With direct wallet-to-wallet transactions, investors sidestep traditional third-party risks. Global accessibility, pseudonymity, and a user-focused governance system present a strong case for Uniswap's potential growth. As with all investments, due diligence and financial consultation are essential.
Safety and security with Wealth99
98% of assets on Wealth99 are kept offline in 'cold storage' – safe from hackers and cyber-security threats.
Our assets are insured with Bitgo, one of the world's largest institutional custody providers.
Your account is kept secure with compulsory Two-Factor Authentication (2FA) plus email notifications whenever your account is logged into.
We also hash all passwords, use AES-256 encryption for wallets, secure all private keys with Bitgo, and help prevent CSRF attacks by using SQL injections to verify requests.
Each transaction goes through a carefully scrutinised authentication process, which takes 24 to 48 hours to complete.
Wealth99 also complies with all relevant Know Your Customer (KYC) and Anti-Money Laundering (AML) requirements.
Why choose Wealth99?
Whether you're an investment expert or a total newbie – with Wealth99, your New Wealth journey will be simple, safe, and secure.
Quick sign up
Get started in just a few minutes from your phone or laptop.
Low minimum investment
You can start your New Wealth journey with as little as AUD $100.
User-friendly
Buying and selling is simple on our easy-to-use platform.
World-class security
Our multiple best-practice security protocols keep your assets safe.