What is USD Coin?
USD Coin, or USDC, is a stablecoin pegged to the value of the U.S. dollar. Its primary aim is to bring stability to the volatile crypto market. Issued by regulated financial institutions, each USDC token is backed by one U.S. dollar, held in reserve.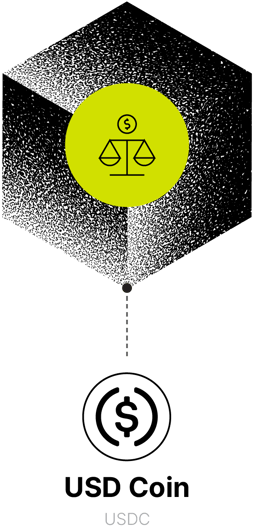 Consistency in a volatile market
In a world where cryptocurrencies can see huge fluctuations in value, USDC offers the market stability and predictability. It allows you to transact in digital dollars while enjoying the benefits of the blockchain.
Quick and affordable transactions
USDC transactions are processed on the Ethereum blockchain, offering speed and low transaction costs, making it a preferred choice for many types of digital transactions.
Why should you buy USD Coin?
Risk mitigation
Given that USDC is stable and backed by the dollar, it offers a risk-averse option for those who want to move their money into crypto without the usual volatility.
Widely accepted
USDC is accepted across numerous exchanges and platforms, making it one of the most versatile and useful cryptocurrencies available.
Regulatory oversight
USDC is issued by regulated financial institutions, ensuring that it meets strict compliance and regulatory standards.
Is USD Coin a smart investment?
While USDC may not offer the high potential for returns that other, more volatile cryptocurrencies might, it offers a way to diversify your portfolio by including a stable asset. It's a useful hedge against the volatility of other investments. However, as with any financial decision, it's always best to consult with a financial professional.
Safety and security with Wealth99
98% of assets on Wealth99 are kept offline in 'cold storage' – safe from hackers and cyber-security threats.
Our assets are insured with Bitgo, one of the world's largest institutional custody providers.
Your account is kept secure with compulsory Two-Factor Authentication (2FA) plus email notifications whenever your account is logged into.
We also hash all passwords, use AES-256 encryption for wallets, secure all private keys with Bitgo, and help prevent CSRF attacks by using SQL injections to verify requests.
Each transaction goes through a carefully scrutinised authentication process, which takes 24 to 48 hours to complete.
Wealth99 also complies with all relevant Know Your Customer (KYC) and Anti-Money Laundering (AML) requirements.
Why choose Wealth99?
Whether you're an investment expert or a total newbie – with Wealth99, your New Wealth journey will be simple, safe, and secure.
Quick sign up
Get started in just a few minutes from your phone or laptop.
Low minimum investment
You can start your New Wealth journey with as little as $/£500.
User-friendly
Buying and selling is simple on our easy-to-use platform.
World-class security
Our multiple best-practice security protocols keep your assets safe.