The Importance of Asset Security
In the dynamic realm of digital assets, security is paramount. At Wealth99, we don't just prioritize your financial well-being – we make it our mission. We understand that your wealth signifies more than figures and algorithms. It embodies your aspirations, ambitions, and forthcoming triumphs. So, as part of our commitment to your wealth journey with us, we forge partnerships firmly rooted in trust and guidance.
Redefining Custody: Beyond Safekeeping
Custody is more than storage; it's the fusion of cutting-edge technology and unwavering security. Our philosophy centres on safeguarding your assets, nurturing growth, and paving the way for a secure digital future.
Navigating Three Options for Custody
Understanding the landscape of digital assets custody options is key for investors. Here's a simple guide:
Self-Custody: Though attractive for its autonomy, self-custody is a high-risk option. Managing coins or tokens personally, through devices like Trezor or Ledger, often leads to lost passwords or devices, accounting for a staggering estimated loss of 20% or $100 billion in Bitcoin. We counsel caution and typically advise against this unpredictable avenue.
Exchange Custody: This is when you leave your assets on a crypto exchange. Convenient but potentially perilous, exchange custody tempts many. Yet the lack of licensing, insurance, and independence in many platforms poses significant risk. We caution this approach considering the risk of exchange hacks.
Licensed Custody (our pick): Licensed custody offers the stability, safety, and assurance that investments demand, preserving assets with an independent, insured, licensed custodian.
Why We've Partnered with BitGo: Aligning Security and Innovation
Our commitment to safeguarding your investments led us to joining forces with global leaders in digital asset custody, BitGo.
With an impressive $250 million in insurance coverage, BitGo shines as a true symbol of trustworthiness and innovation. BitGo serves a distinguished clientele of over 1500 institutional partners across 52 countries with an unparalleled regulatory architecture - overseeing over 20% of all monthly Bitcoin transactions.
In a recent interview, a key figure from BitGo's global team highlighted the company's quality and assurance, demonstrated through rigorous due diligence assessments by esteemed institutions over 6 months.
BitGo's Approach to Security: A Symphony of Assurance
BitGo doesn't just have policies to keep client's funds safe – they've created a well-designed set of protections:
Regulation: Operating as a "qualified custodian," BitGo Trust's regulation and insurance against loss, theft, or misuse are sterling examples of fiduciary responsibility. Client assets are not just housed; they are segregated and enveloped in a fortress of security measures.
Insurance: BitGo's insurance framework is a robust shield, encompassing a broad spectrum of potential risks. For a comprehensive insight into the coverage and the meticulous crafting of the policy, Bitgo's white paper is readily available for download here.
Technology: Security at Bitgo isn't static; it's dynamic and resilient. The architectural design, aimed at multi-wallet protection, fortifies each wallet with multi-signature protocols. Keys find sanctuary offline in Class III bank vaults, and every transaction signing is a process tempered by scrutiny, taking 24 to 48 hours, guided by rigorous policy checks.


With BitGo, your assets are: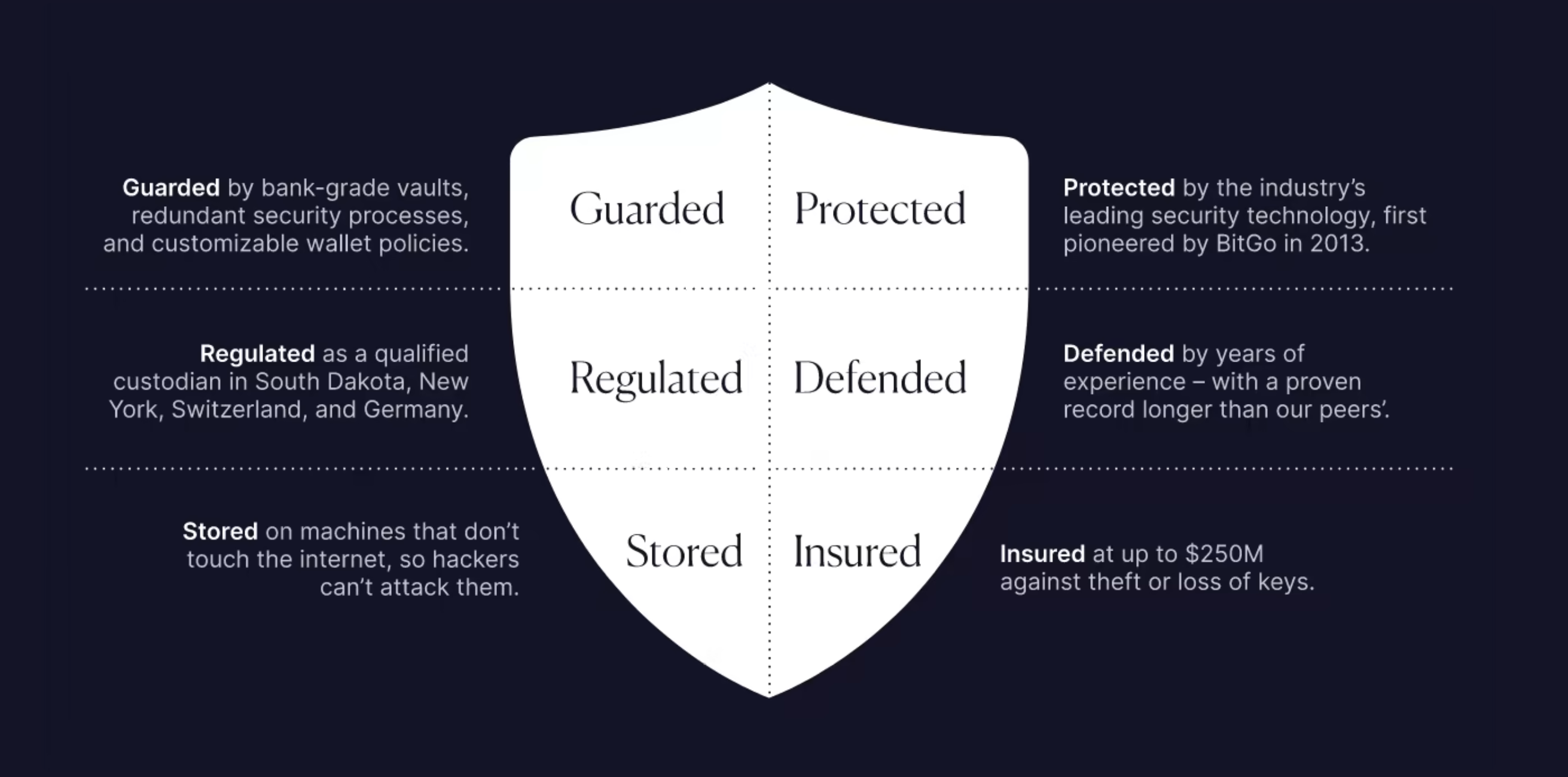 Referecence: bitgo.com
Custody in Today's Landscape: A Fundamental Necessity
In today's world, where crypto-hacks are no longer just hypothetical threats, custody is a fundamental necessity, vital for both financial institutions and individual investors. Selecting an independent licensed custody provider isn't a luxury but a must-have, even with the associated monthly costs.
Your Wealth Security: Our Priority
At Wealth99, the security of your wealth is not merely a component of our service; it's the foundation of our mission. This commitment transcends initial measures — it's an ongoing pursuit of excellence. As we grow and evolve alongside you, we continually enhance our practices, always with an eye on innovation and integrity. In collaboration with BitGo, we're dedicated to reinforcing our world-class security measures, reinforcing your confidence and trust in us, time and time again.