Wealth99 Australia Platform update: Frequently Asked Questions
What is the announcement?
From 15th August 2023, all crypto-asset withdrawals will cease on the Wealth99 Australia platform.
Why is this happening?
We've made this decision for two reasons.
Firstly, this change is fundamental for our platform's evolution into a 'wealth platform', where Australian investors deposit their capital and build their wealth long-term with digital assets. This is the standard model across wealth companies globally (whether it be AMP, Colonial or Netwealth), where clients are only able to invest and withdraw with Australian dollars.
The second and most important reason is security. Ceasing crypto withdrawals ensures our clients cannot have their funds stolen if their personal devices or account is hacked by cybercriminals.
In Australia, banks are clamping down on crypto-exchanges due to their ability to facilitate predatory scam attacks. This transition excludes Wealth99 from this situation.
This change also fits with our independently insurance custody model for our clients, with the leader in digital asset security, BitGo. For accountants as well as other financial professionals, it proves our security protocols are higher than ordinary crypto exchanges.
What is a crypto withdrawal?
A crypto withdrawal refers to the process of moving digital assets such as cryptocurrencies from a specific platform, exchange or wallet to another external location. This is how crypto scams are facilitated, and is why we are ceasing this feature.
What do I need to do?
No action is required.
How do I withdraw my money?
From 15th Aug 2023, you will not be able to withdraw your crypto assets from the platform. Instead, you will need to liquidate your holdings and then withdraw fiat money to your registered bank account in Australia.
What about crypto-deposits?
You can deposit crypto as normal. We also plan to increase the range of cryptos available for deposits.
What about withdrawal limits?
We already offer high limits, however if there is an issue, please inform us as we maintain a strict 'hot / cold' wallet solution for security.
What about Dacxi Coin withdrawals?
From August 15th, withdrawals of Dacxi Coin will be facilitated through an OTC (over-the-counter) solution, to ensure your options are not limited. This will not be anonymous to guarantee full security, nor will it be available for any other assets. However, there is no trading reason to withdraw, and we recommend keeping your Dacxi Coins on the platform. To find out more about this service here.
Can I still transfer to another Wealth99 account?
Yes, you'll still be able to transfer between accounts as normal.
Which platforms are affected?
Wealth99 has two platforms - Australia and global. This change only affects the Australian platform, with no plans to introduce this feature to the global platform in the near future.
What if I want to buy crypto and send it to someone, i.e. withdraw / transfer?
From August 15th, you will need to use a crypto-exchange to do this. However, you'll still be able to transfer crypto to other Wealth99 account holders within Australia and worldwide.
Anything else I need to be aware of?
We will also make sure that your funds can only be withdrawn to your bank account.
This is also a standard 'wealth' platform feature, as it ensures your funds cannot be stolen by hackers. In order to do this, they would need to hack your bank account itself, which is blocked by your bank's security measures.
What other things are happening in the Australian crypto-market?
The amount of scams in Australia is a serious problem, with claims stating that an unfortunate 40% are facilitated by crypto. A crypto-exchange is able to facilitate the scam by allowing the client to buy assets like BTC/ETH/USDT and withdraw to the scammer's wallets. This also can occur if someone 'hacks' your account and withdraws the coins themself.
For this reason, banks are attacking the crypto-exchange market, with predictions claiming this will only continue. This change allows us to protect our clients from such threats.
But isn't Wealth99 a crypto-exchange?
A few people may still believe that Wealth99 is a crypto-exchange, and therefore blocking crypto-withdrawals seems like an unusual decision. As revealed in our rebrand earlier this year, we are focused on pioneering the emerging 'Digital Asset' wealth market. Here is a comparison of what makes us different: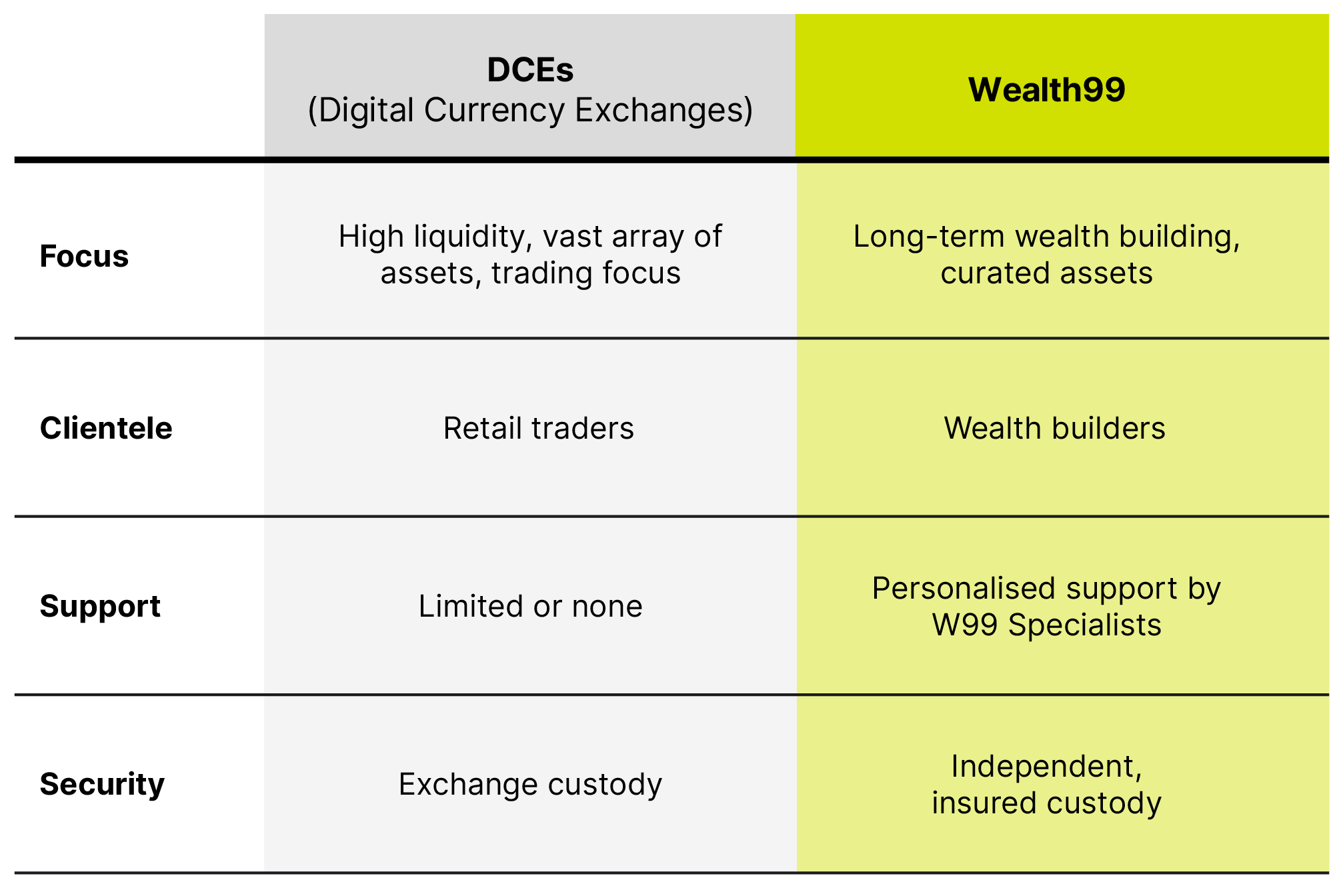 In recent years, digital assets have proven themselves as one of the most rewarding asset classes for investors. With the tokenization market expected to hit 27 trillion in value by 2027, we expect the number of assets and opportunities for investors to explode and provide fruitful returns for those who take advantage of it. However, the right partner is required.
Our continued focus on security, unique custody model, platform features, education and investment section, is designed specifically for wealth-builders looking to do so in a safe and secure way.
For any questions, don't hesitate to contact us at hello@wealth99.com.